Craft Workshop
When is the last time you took a chisel, a hand drill, or a hammer for that matter for a creative project? Would you like to make something with your own hands? Maybe a lampshade, a mobile stand, a soap holder, a locket or a keychain? Here is a chance to reconnect with your fingers' cravings.
Work on the masterplan with 'Studio Commune'
Studio Commune is an architecture groupe based out of Thiruvananthapuram. Beyond a conventional architecture studio this is a commune of like minded people through project/research based collaborations. 
They have been working with Sarang on creating a master plan for the future rural university. The contour map of the land had been done last year with a drone survey. The interns from Studio Commune has been documenting the existing buildings also plotting the trees around the possible construction site.
This month, Soumini and Vishnu, the directors of Studio Commune and four interns spent a few days continuing their work here, also helping us with plans. Some photos:
Saji Bomman is helping Sarang in building a guesthouse!
After a long time, we made enough savings to start the work of the long-pending guest house. This is part of the visitors' center we
mentioned
earlier. Saji Bomman, who is also a student from Kanavu (another alternative school based in Wayanad) is leading the work of the construction.
He and his team are currently harvesting the bamboo necessary for the construction. We all working on the other aspects to quicken the process.
If you want to pitch in, this is the time. We are NOT looking for volunteers since Saji has his own skilled team. You can contribute towards material or remuneration for the team.
The site from the tree top. There was a house here 25 years ago

The site slope adjusted for better water percolation

Saji on the site

Breakfast time for the team

Harvesting Bamboo
അട്ടപ്പാടിയിലേക്കു മടങ്ങുന്നു.
ഒളപ്പമണ്ണ മനയിൽ നിന്നും ഇന്ന് അട്ടപ്പാടിയിലെ ഞങ്ങളുടെ മണ്ണിലേക്ക് മടങ്ങുകയാണ്. നമ്മുടെ സ്കൂൾ -അല്ല- ഗ്രാമീണ സർവ്വകലാശാല എന്ന സ്വപ്നവുമായി മലയിലേക്കു മടങ്ങുന്നു.ഞങ്ങൾ പരിശീലിപ്പിച്ചെടുത്ത ഞങ്ങളുടെ മക്കളും കൂട്ടിനുണ്ട്. ചാലക്കുടി, ആറന്മുള, പത്തിരിപ്പാല, കോങ്ങാട് എന്നിവിടങ്ങളിലായി പത്തുകൊല്ലം ചെലവിട്ടു. നമ്മുടെ സ്വപ്ന വിദ്യാലയത്തിനുള്ള അദ്ധ്യാപകരെ പരിശീലിപ്പിച്ചെടുക്കുകയായിരുന്നു ലക്ഷ്യം.അത് ഏതാണ്ടു കഴിഞ്ഞു. ബാക്കി സാരംഗിൽ ചെന്നിട്ട്. അവിടെ ഫോൺ, ഇന്റർനെറ്റ് സൗകര്യങ്ങൾ പരിമിതമായിരിക്കും. സുഹൃത്തുക്കളിൽ നിന്നും ഇന്നു വരെ കിട്ടിയിട്ടുള്ള സഹകരണങ്ങൾ ഞങ്ങളുടെ മുതൽക്കൂട്ടാണ്. തുടർന്നും ഞങ്ങൾ അതു പ്രതീക്ഷിക്കുന്നു.
04912 847 428 എന്ന ലാൻഡ് ഫോൺ ഇന്നു മുതൽ റദ്ദാക്കുകയാണ്. 9446 239 429 എന്ന നമ്പർ ഉണ്ടാവും മലമുകളിൽ റേഞ്ച് കുറവായിരിക്കും.
സാരംഗിനെ ഉറ്റു നോക്കുന്നവരെ,
ഒരു ചുവടുകൂടി മുന്നോട്ടു വച്ചു നോക്കട്ടെ.ഒപ്പമുണ്ടാവണേ,
സ്നേഹപൂർവ്വം,
ഗോപാലകൃഷ്ണനും വിജയലക്ഷ്മിയും.
Hands on Experience : Walls with mud plastered bamboo weave at Sarang, Attappady, Palakkad, Kerala
We are re-structuring this 20 year old mud building. The first storey is constructed with pressed mud block. We are adding a second storey with bamboo and mud plaster. Here is an invitation if you would like to get some hands on experience on this technique. (Known under the  fancy term of wattle and daub among architects.)
We have successfully completed our first project of a small cabin using bamboo, wood and mud. (pictures shown below were taken during the process)
Making walls by mud plastering on woven bamboo is an ancient technique. In Attappady, indigenous communities still use this for their homes. We modified the technique a little so that the finish is more modern. (Hence the non-bumpy, flat finish on the picture) It was a great learning experience for us to experiment with this technique. We have tried our own little ideas to avoid termite attack on the structure. 🙂
An opportunity for you!
We are inviting all who are interested in learning this technique and working as a team. We hope the experience to be a give and take, not just a resource person teaching a group. It will be more like a sharing of the experience we have gained through our experiments. You can decide the duration of your stay according to availability of your time. The site is located on a remote hilltop in Attappady, Palakkad district. If you are planning to come, please read the following important information.
Eating, Sleeping, Bathing and other things
Food is rice based and home-cooked. Food will be very simple and basic since currently we don't have anything growing in the farm. Occasionally we have eggs on the menu. If you need to snack in between, keep yourself stocked from the small town 7 kilometers away. We don't provide tea or coffee at the main campus, and the nearest tea shop is 30 minutes away by foot, if its a must for you.
Potable water is from a rainwater harvesting tank or from a spring in the valley. Boiled and cooled water will be available for drinking. Because of the severe draught of 2012, it is a scarce commodity and has to be used wisely. For bathing and washing clothes, all will have to walk down to the spring a half a kilometer away. Covered mud pit toilets will be there.
A single cottage is available for volunteers, where 4-5 people can sleep. There is also the newly built cabin which can sleep 4-5 people. There are no bedding or cot. We can provide mats. Please bring a sleeping bag or blankets & sheets. Nights are generally cold & windy. So, be prepared with warm clothes. Bring working clothes to work with mud. Bring hats, scarves or any protective gear you may need. And your personal medications. Bring a pair of slippers.
Electricity and Internet
The main house is powered with a Solar Electric System which takes care of all energy needs. Charging of mobiles can be done. Most mobile networks are available, so you can stay connected. Internet facility, if needed, will have to be availed from the nearest town about 7 Kilometers away.
Costs
Both the campuses run on our income from web designing and other small jobs, not on external funds. This is why a contribution of INR 150/head/day for food is expected. We are not yet ready for providing food and shelter in exchange of work.
Essentials for happy living at Sarang
Ability to communicate in Malayalam, Tamil, Hindi or English.
A broad mind to understand and respect our customs, manners and practices.
Avoid smoking, alcohol and drugs while you are with us. We have a very strict policy regarding this.
Loose fitting cotton clothes appropriate for our climate.
Since we use a minimum of furniture, enjoy sitting cross-legged on the floor and sleeping on mattresses or sleeping bags.
Contact us : email saranghills at gmail dot com  phone : +91 8281707420 (Unniyarcha)
Baking : Borma (Cob Oven) Tales
Who doesn't like crisp biscuits, rich cakes and other baked snacks? We do. But the normal baked fare available everywhere is made using 'Maida' or refined flour. Maida is neither healthy nor a necessity. It can be replaced a 100% by whole wheat flour, millet flours, rice flour etc.
Right from the time Hiranya could understand we told her that though tasty the baked goodies in the omnipresent 'bakeries' were not good for our health. Occasionally we did indulge in them. We also bought healthier alternatives whenever we could. We also made traditional snacks at home so that the children do not feel deprived. A sustainable solution to this was to make our own baked snacks.
All our plans of life at Sarang featured a wood-burning cob oven. This past year we finished a small new kitchen complete with an oven. It is made with sieved mud mixed with jute strands. The floor was laid with half foot of pebbles. This along with a door keeps the heat in. There is a chimney to pull out the smoke.
It has been finished for a while now, but we were procrastinating on using it. Today, we did! And with great results considering the lack of a temperature measuring device and proper baking utensils. We looked up two simple whole wheat recipes for biscuits on the internet. One was a whole wheat/ragi combination and the other was for coconut biscuits.
Gautham fired the oven. I had the mix ready and put them in once the fire had died down leaving only hot coals. The coals should have been taken out but I was a little scared so I just pushed them to the sides.
The whole wheat/ragi biscuits got completely charred but the coconut cookies turned out quite well. As I write, a second batch of coconut cookies are getting baked. We are overwhelmed by how easy the whole process was and how tasty the biscuits were!
We hope to continue baking, maybe even breads, the most difficult to turn out.
Here are the recipes we used:
Whole Wheat/Ragi Biscuits
(http://www.tarladalal.com/Wheat-(or-Ragi)-Biscuits-13011r)
Whole wheat flour – ¾ cup
Ragi Flour – ¼ cup
Sugar – ½ cup
Ghee – ½ cup
Vanilla essence – ½ tsp
Preheat the oven to 275 degree Celsius.
Sieve the flours.
Blend the flours with sugar and ghee in a mixie into a smooth dough.
Brush the baking sheet with butter or ghee or oil.
Roll the dough into round balls.
Flatten them with the palm to shape.
Place an inch apart on the baking sheet.
Bake for 30 minutes.
The original recipe called for cardamom powder which I did not have and so replaced with natural vanilla essence.
Coconut Cookies
(http://www.manjulaskitchen.com/2014/01/05/eggless-whole-wheat-coconut-cookies/ )
Whole wheat flour – ½ cup
Sugar – ¼ cup
Grated coconut – ¼ cup
Unsalted butter or ghee or coconut oil – ¼ cup
Salt – a pinch
Vanilla essence – ½ tsp
Milk – 1 Tbsp or a needed
Grated coconut for garnish
Preaheat oven to 180 degree Celsius.
Powder sugar.
Cream butter, ghee or coconut oil with powdered sugar.
Add vanilla essence and salt and mix well.
Add flour and grated coconut and combine.
Sprinkle milk and make smooth, soft dough.
Divide into 10-12 round balls.
Flatten with palm to shape.
Dip top into grated coconut and place on baking tray one inch apart.
Bake for 20 minutes.
The soft cookies will firm when they cool.
Enjoy!
Mural Painting Workshp
Sarang Cultural Ventures is organizing a 10 days intensive workshop on Kerala's traditional mural painting. We believe learning is one of the best forms of preserving a heritage. Join hands with us in this effort!
Building the Rural University : Thanks to all supporters
Towards the end of 2012, we put up a fundraiser for building 'Sarang Rural University'. Many people promised support, some donated money, some spent a few days working with us, many spread the word, helped us with various equipment, contacts and many boosted our morale simply with their good words and smiles.
Gautham and Anuradha have been the basic team, with a couple of friends helping now and then. Luckily, a group of hardworking youngsters could be hired from the neighbourhood for help. We received a total of INR 1,53,000 financial contribution. Though we cannot quantify the time and labour put in by us or our friends, we are putting up a list of quantifiable investment that has already been done. As you can see from the table, we've tried to spread out most of the investment in the neighbourhood as wages. Do check out the pictures of the work too. The website will keep you updated on continuing work and how you can join hands.
Once again thank you for the support and please be with us in all the work ahead!
[table id=1 /]
Blue bearded Bee-eater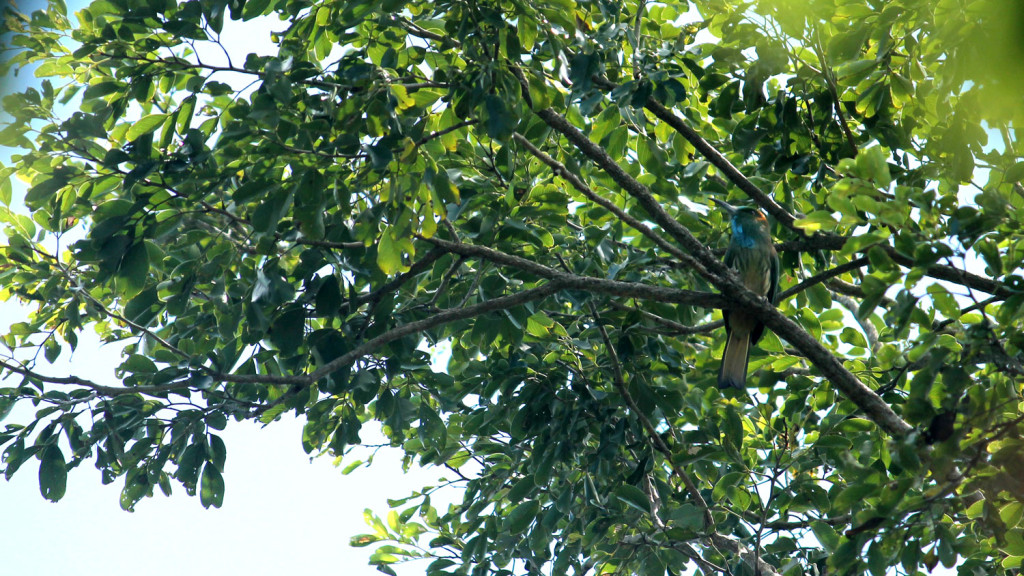 The Blue-bearded Bee-eater (Nyctyornis athertoni) is a large species of bee-eater found in much of the Indian Subcontinent and parts of Southeast Asia. This species is found in openings in patches of dense forest.
Appearance of this bird is another example of the micro-climatic change that happens on this hill. Read more about this beauty on Wikipedia : http://en.wikipedia.org/wiki/Blue-bearded_Bee-eater
Websites from rural brains
Last year Gautham started a web development training course for the youth from a village. LXI Technologies, Pathiripala agreed to provide all the facilities free of charge. The students were selected from a parallel college nearby. All of them were BCom students and didn't have much of an IT background.
Gautham guided them through the complexities of 'WordPress', an open source CMS. The training was during the weekends and holidays. It took about six months to cover the syllabus. The institution allowed the students to use the IT lab during mornings and evenings so as to fine tune their skills.
On September 5th 2013 the students launched their first website, pathiripala.org The students are behind everything including the design, development, content compilation and little bit of scripting. The site is far from complete since a lot of information is still being filled in. With their hard work, we are sure that it will become a success soon. The site recorded more than 600 clicks on the first day. We are positive that it will attract more visitors in the coming days.
This is a proud moment for Sarang too. We always knew that rural brains are nothing less than excellent. With proper guidance, we can make a difference! Now we are waiting to see whether and how they are going to make the web site more useful to the public.
---