The kitchen being finished
Our kitchen is almost finished. Here are some pictures showing the progress from the beginning.
Building the Rural University : Thanks to all supporters
Towards the end of 2012, we put up a fundraiser for building 'Sarang Rural University'. Many people promised support, some donated money, some spent a few days working with us, many spread the word, helped us with various equipment, contacts and many boosted our morale simply with their good words and smiles.
Gautham and Anuradha have been the basic team, with a couple of friends helping now and then. Luckily, a group of hardworking youngsters could be hired from the neighbourhood for help. We received a total of INR 1,53,000 financial contribution. Though we cannot quantify the time and labour put in by us or our friends, we are putting up a list of quantifiable investment that has already been done. As you can see from the table, we've tried to spread out most of the investment in the neighbourhood as wages. Do check out the pictures of the work too. The website will keep you updated on continuing work and how you can join hands.
Once again thank you for the support and please be with us in all the work ahead!
[table id=1 /]
Blue bearded Bee-eater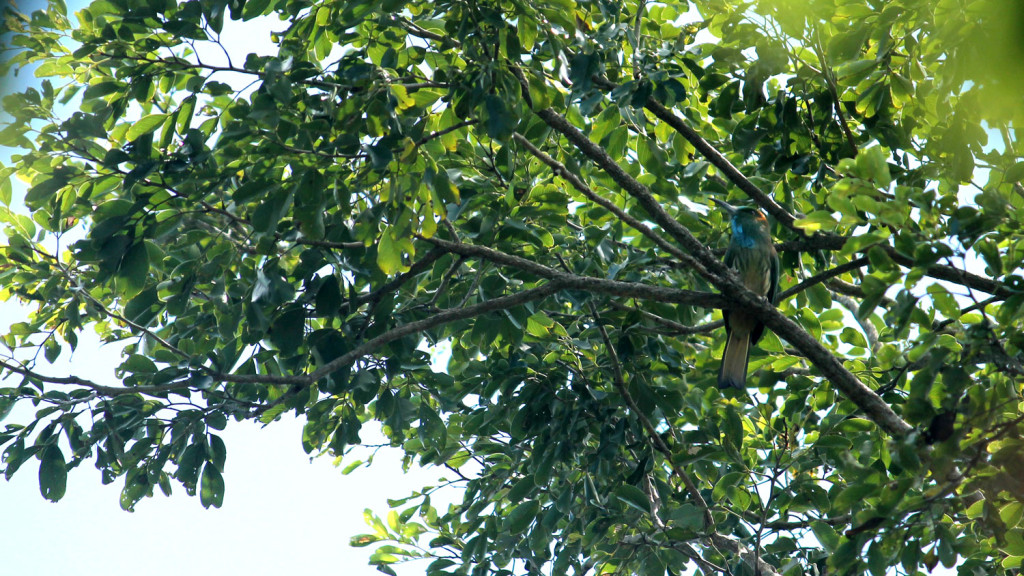 The Blue-bearded Bee-eater (Nyctyornis athertoni) is a large species of bee-eater found in much of the Indian Subcontinent and parts of Southeast Asia. This species is found in openings in patches of dense forest.
Appearance of this bird is another example of the micro-climatic change that happens on this hill. Read more about this beauty on Wikipedia : http://en.wikipedia.org/wiki/Blue-bearded_Bee-eater
Birds in the campus
As the forest grew more and more species of birds appeared. We will be adding shots or checklist as we get them. If you are good with this, you can come, stay here and document the birds for us. We will be updating a list of birds seen here as and when possible. (Don't worry even if you see this post not being populated beyond this after a year. We are too less people to do too much work! 😉 )
Little family moves to the hill
Though living away from the hills, Gautham and Anu dwelt there in all their dreams. They planned and replanned how the rural university would look like, what their lives would be like there! They traveled to the hills with all their spare time and money to build small structures like the cattle shed, a bathroom, a new kitchen. Many volunteers and the rest of the Sarang team were part of much of this work.
This June, they finally moved to the hills with their little children, Hiranya and Parthan. Unnikrishnan, from Chalakkudy, who was looking after the farm in the Sarang family's absence stayed on for a month to help the little family settle down.
With the newly installed 1 KWH Solar Power System and hopefully an internet connection soon, they will continue their web development work along with the development of the campus.
The Sun Powers Sarang
June 2013 saw Sarang being powered by a 1 Kilo Watt Solar Electrical System. Allotted to Sarang under the  '10,000 roof top solar' project, an initiative by ANERT, Government of Kerala, it is subsidized up to 50% by the State and Central Governments. Thanks to this project, the money contributed by friends & well-wishers has literally doubled!
---